Long Future Co., Ltd. is één van de beroemde fabrikanten, de leveranciers en de exporteurs van Van de schuim materiaal, met een fabriek in Taiwan.Met jaren van ervaring in de lijn van het produceren van producten, zijn wij gekend voor onze opmerkelijke prestaties in De industrie van producten. Wij hebben ons bedrijf als één van het belangrijke merk in Taiwan gevestigd.Wij bevorderen constant onze producten internationale normen te voldoen.Wij houden een team van beroeps, dat op tijd leveringen met De producten van uitstekende kwaliteit waarborgt.Ons openhartigheid en hard werk hebben ons helpen onze kwaliteit met internationale normen aanpassen.
Inleiding
Long Future is one of leading and experienced manufacturers in Taiwan specializing in EVA Foam, Floor Mats, Exercise Mats & other Sports products. Long Future established in 2001, had already possessed over 25 years of shoe-making - EVA Foaming experience prior to the company's foundation. We manufacture pure EVA Foam materials and also perform the further processes to complete EVA Foam Mats, EVA Sporting Goods and EVA Foam Toys etc. We are dedicated on innovations, high-level quality and fulfill customer satisfaction.
Long future's EVA Foam has a wide range of applications and can be used in a wealth of products including Soles & Insoles, Floor Mats, Sports Mats ( Judo, Aikido, Tae Kwon Do, Karate, Yoga, Wrestling & Grappling Martial Arts. ) Stationeries, Toys and Heat-retaining Materials. Various dimensions and thickness are available to meet the requirements of different industries. As for our strict quality requirements, Long Future has got ISO9001:2008 quality certification. Our non-toxic and environmentally friendly products have passed safety test. We produce quality products to facilitate people's life and ensure extra safety.
We have in-time service to grant the best delivery. With years of experience as a manufacturer & exporter, we are confident of satisfying customers with our products & service. To get further information of our products and company, please feel free to send us inquiry from our website at any time. We are at your service all the time.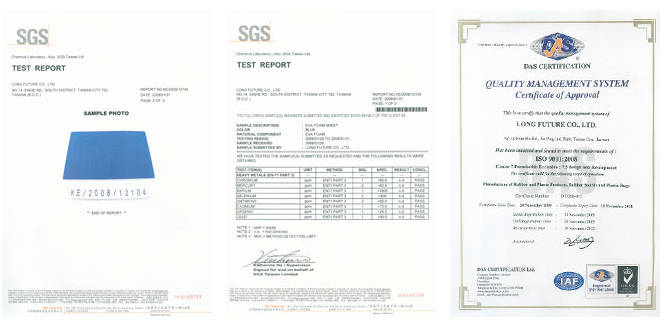 Ons openhartigheid en hard werk hebben ons helpen om de kwaliteit van onze
schuim materiaal
met internationale normen aan te passen. Volgens de verschillende soorten De vervaardigingseisen, bieden wij de perfecte diensten aan u aan.